On October 30, 2020, the phase I of the agrochemical and intermediate project of Ningxia Yifan Biotechnology Co., LTD. (subsidiary of Yifan Biotechnology Group Co., LTD.) was officially put into production and a ceremony was held in the Ningxia Ningdong Energy and Chemical Industry Base located in west China. More than 150 guests attended the ceremony.

A new start built, a brighter future awaiting
Yifan Biotechnology group was launched in Wenzhou City, Zhejiang Province, in 1992. Jiangsu Yunfan was then founded in Qidong, Jiangsu Province. After 26 years experience in the industry, Ningxia Yifan agrochemical and intermediate project was landed in the Ningdong Base in March 2018, covering a land area of 36 hectares. The project is being implemented over three phases, with a total investment of Yuan1.86 billion and is scheduled for full-scale operation in 2022. So far, phase I of the project has been completed and began operation, ensuring the production of 3,000 tons of Clethodim, 500 tons of Bromacil, with the presence of waste treatment facilities, storage tanks, warehouses and a technical building. After the completion of all three phases, production facilities for 48 agrochemicals and intermediates will be established, with an estimated annual production value of Yuan3 billion and annual tax contribution of Yuan150 million while creating 1,000 jobs. The implementation of the project will promote the synchronous development of upstream and downstream industries, achieving both economic and social benefits.
Ningxia Yifan modern chemical plant
"The project broke ground in April 2019, and the first workshop was completed in July 2019, and the first waste treatment facility was delivered to site in November 2019. The civil works of phase I was completed in August 2020, and its first production line and trial operation began in October 2020. Today, phase I of the project is officially in operation. To this end, the Yifan Biotechnology Group now has a production capacity of 6,000 tons of clethodim," said Wu Kechong (Board Chairman of Ningxia Yifan).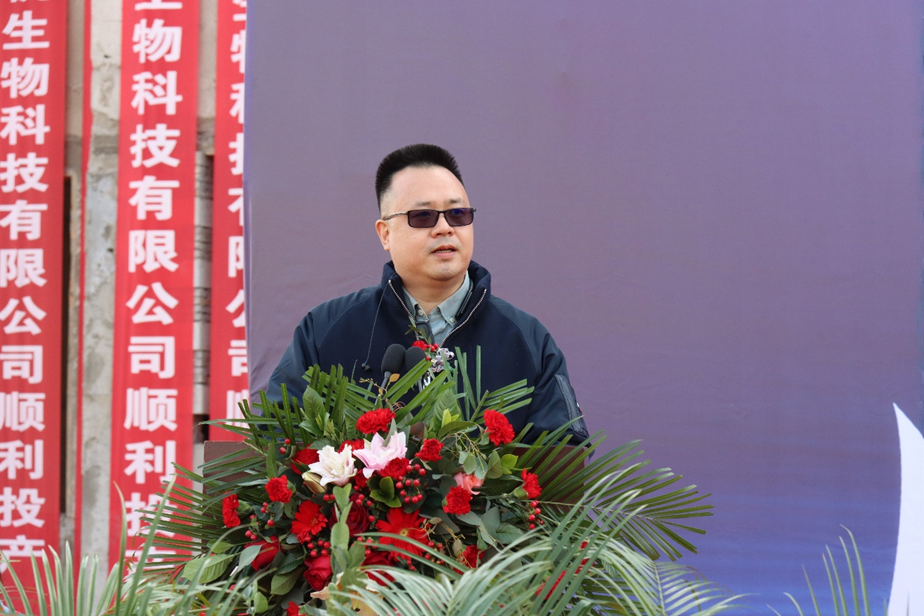 Board Chairman of Ningxia Yifan Speaking
Ningxia Yifan Project is an important strategic deployment of Yifan Biotechnology Group and its operation means great to the group. As the first large-scale agrochemical manufacture settled in the western China, Yifan Biotechnology Group also led a new way for the development of the industry. "Under such stringent environmental requirements, the approval of new projects in eastern China has been delayed, and companies have been forced to transfer production capacity. In addition, the trade war between China and the United States starting in 2019 and the COVID-19 pandemic have caused problems in the global supply chain. The central government has proposed a development pattern of mutual promotion between domestic and international double cycles. Therefore, pesticide, as an important crop protection product, it's supply chain must be well protected. A proper distribution of pesticide production in the western China is essential to maintain Chinese and global food security." Said Sun Shubao, president of China Crop Protection Industry Association.
Yuan200 million environmental investment & excellent Ningdong base support ensure plant's stable supply
At present, up to Yuan200 million was spent on environmental facilities, such as a world-class COD Submerged-combustion, the same as Syngenta's, as well as a solid waste rotary kiln and waste gas treatment equipment, making Ningxia Yifan's waste treatment is up to EU standards. Furthermore, Ningxia Yifan's wastewater treatment capacity is 5,000 tons daily, which is a positive response to the requirements of the administration of the energy base, so not a single drop of wastewater should get into the Yellow River.
The complete supporting infrastructures and facilities of Ningdong Energy and Chemical Industry Base also add a safety lock to the stable supply of Ningxia Yifan. Ningdong Energy and Chemical Industry Base is a national key development zone, ranking 10th in 2020 China Chemical Industry Parks. Explored coal reserves amount to 32.2 billion tons, with a future prospect of 139.4 billion tons, being one of China's 13 key 100 million-ton coal mines. The base is equipped with complete urban living facilities and developed traffic construction network; abundant raw material resources; Stable water resources; complete industrial chain. Besides, the park has established high standards of environmental protection according to domestic and foreign industry standards, and has strict environmental protection and compliance requirements for enterprises to enter.
Advance with the value of establishing a self-innovation Chinese brand
In 2021, Yifan Biotechnology Group will be ready to begin its phase II project, to achieve the goal of full operation as early as possible. In the future, Yifan will adhering to the value of establishing a self-innovation Chinese brand, investing more in R&D and environmental protection development. Through the integration of group management, the improvement of quality management system and the optimization of technologies, we will devote to promote the development of the world crop protection careers.